CSE Mourns Passing of Michael Ho
Tuesday, February 20, 2018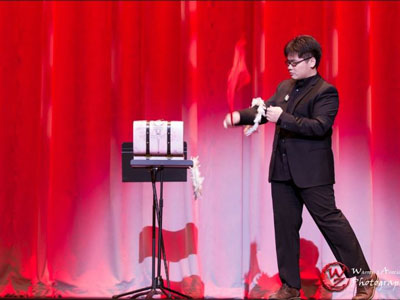 Michael Ho, a PhD student in the Computer Science and Engineering Department, passed away on Feb 12 at Arlington Memorial Hospital, after a courageous battle with leukemia.
A memorial service will be held on Wednesday, Feb 21, at 11 a.m. at Moore Funeral Home, 1219 N. Davis Dr., Arlington, Texas 76012.  
After completing his Bachelor's degree in National Taiwan Ocean University, Michael entered the University of Texas at Arlington as a Computer Science major first in the MS program in 2014 and then in the PhD program in 2016. Supported as a GAANN fellow, Michael exhibited exceptional research capability during his PhD study. He led with dedication a research project on software security and made significant contributions to the project. He was recently selected to receive the Outstanding PhD Student award for academic excellence. 
Michael was full of energy and enthusiasm for life. He was a self-taught, talented magician and performed in many events, big and small. The audience always enjoyed his humor and creativity. Michael was known for his big smile. He was always positive, happy, and never hesitated to help those in need. Michael loved his family dearly.
Michael had a bright future ahead of him. He will be remembered for his passion to research and life and his big heart towards others.